LED Video Wall Display & Panels in Pakistan | led screen wall
Welcome to Arista Vision! We're here to bring you the latest and greatest LED Video Wall Solutions in Pakistan. Imagine super big screens that grab your attention everywhere – that's what LED video walls are all about. We're the top choice for SMD LED video walls in Pakistan, and we know these screens inside out. Get ready to experience the magic of technology and creativity with our amazing LED video walls!
Check Out Our: SMD Screens In Pakistan
Benefits of Our LED Video Walls
The top SMD LED video wall providers in Pakistan. Our LED walls bring amazing perks: super clear images, eye-catching displays, and easy customization. They save energy, last long, and work indoors or outdoors. Plus, they can even save you money in the long run.
led wall price in Pakistan
In Pakistan, we offer affordable LED video walls that bring stunning visual experiences to any event or venue. Our commitment to providing cost-effective solutions ensures that businesses and organizations across the country can access high-quality LED walls without breaking the bank. With competitive prices and top-notch performance, our LED video walls are the perfect choice for captivating audiences and enhancing communication in Pakistan.
led screen wall
we're known for offering the finest LED screen walls. Our LED screens are top-notch, featuring advanced technology and exceptional quality. Whether you need them for events, advertising, or creating exciting displays, our LED screen walls are designed to impress and engage your audience like never before.
Introducing Our SMD LED Video Walls Products
1. Different Sizes and Super Clear: Our LED video walls come in lots of different sizes. You can get a small one for a room or a big one for a big place. They look really clear, like when you watch a movie in super high quality.
2. Cool Designs: We can set up the LED screens in cool ways. If you want a screen that's curved, we can do that. Or if you need many small screens put together, we've got you covered.
3. Super Modern Technology: Our LED video walls use the newest technology. The little parts that make the screen light up are really advanced. This makes the colors look awesome and saves energy, which is good for the environment.
4. Easy to Use: Our screens are simple to use. They work with different things like your computer or TV. You won't have a hard time getting them to show what you want.
5. Really Reliable: Our LED video walls are built to last. We test them a lot to make sure they keep working even if you use them all the time. They're tough and can handle different places.
6. We Care About You: We really want you to be happy with our LED video walls. Our team is here to help you choose the right one and put it up. We'll also help you if there's ever a problem.
Make your place light up with Arista Vision's LED video walls. It's like having a big, colorful TV that can show anything you want. You'll love it!
TAKE A LOOK AT THE DIFFERENT LCD SMD VIDEO WALL Display Screens FRAMING SOLUTIONS
LED Video Wall Applications in Pakistan
Our company, Arista Vision, provides special LED video walls in Pakistan. These walls have many uses in different places:
1. Offices and Businesses: In offices and big rooms, our LED walls make presentations look really good. They also make the place look modern and nice.
2. Entertainment Places: At concerts, theaters, and live events, our LED walls show cool visuals that make the show more exciting and fun to watch.
3. Shops and Stores: In shops, our LED walls show ads and things for sale. They make the shop look cool and help people buy things.
4. Control Rooms: In places where people watch over things like security cameras or important data, our LED walls show all the information on one big screen. This helps them do their jobs well.
5. Hotels and Restaurants: In nice places like hotels and restaurants, our LED walls show pretty pictures and info to guests. They make the place look fancy and interesting.
6. Sports Stadiums: In sports games, our LED walls show scores and exciting moments again on a big screen. People in the stadium can see everything better.
7. Schools and Colleges: In schools, our LED walls help teachers teach with pictures and videos. Students can also interact and learn better.
8. Outdoor Ads: Our LED walls are also used for big ads outside, like on huge signs. They show bright pictures and videos that people can see from far away.
So, Arista Vision's LED video walls make different places look better and help show information in a cool way. We're the best suppliers of these walls in Pakistan, helping many industries make their spaces more interesting and engaging.
Customized LED Video Walls Designed Just for You at Arista Vision
At Arista Vision, we're all about making LED video walls that are just perfect for your needs. We're the best folks in Pakistan when it comes to supplying SMD LED video walls.
Getting Exactly What You Need:
We know that everyone's needs are different, and that's why we have lots of ways to make your LED video wall exactly the way you want it. Here's how we do it:
Size and Quality: Whether you want a small video wall for a shop or a big one for a special event, we can make it just the right size and quality for you.

Picture Quality: We can make the pictures on your video wall really clear, no matter how close or far you're looking at it.

Different Shapes: We can put the LED panels together in different ways, even in curved shapes. This makes your video wall look really cool and interesting.

Making Things Match: We can make sure that the stuff you show on your video wall flows smoothly across all the panels. No weird gaps or breaks!
How Customization Makes Things Better:
We've done some amazing projects because we love customizing. Check these out:
Big Company Entrances: We made a video wall that looked exactly like a big company's logo. It caught everyone's eye as they walked in, and it felt super special.

Shops that Shine: Imagine a fancy shop with a video wall that shows off clothes and things. We made sure the pictures were extra clear, so customers could see everything perfectly.

Awesome Events: For concerts and big events, we've made video walls that change to fit the mood. It's like a giant, moving backdrop that makes everything more exciting.
Our Skills in Design and Setup:
We don't just stop at making the video walls. We help plan everything from start to finish:
Planning Together: We talk to you to figure out what you want and what works best for your space.

Setting Up: Our team makes sure your video wall looks and works perfectly in its new home.

Helping Out: We teach you how to use your video wall and help you keep it in tip-top shape.
So, at Arista Vision, we're here to make LED video walls that are as unique as you are. With our skills in customization and getting things set up, we're all about turning your ideas into awesome visual displays that everyone will remember.
Why Choose Arista Vision for LED Video Walls in Pakistan?
Proven Experience:
Arista Vision has been in the LED video wall business in Pakistan for years. We know what works best because we've been doing it successfully for a long time. Our experience means you can trust us to deliver.
Happy Customers:
Our clients love what we do. From big companies to fun places, our LED video walls have impressed people. They've said great things about us, which shows that we care about making our customers happy.
Top Quality and New Ideas:
We believe in giving you the best. Our LED video walls use advanced SMD LED technology, making sure they look amazing. We're always thinking of new and smart ways to make things better.
You're Our Priority:
Your happiness matters to us. We know that every project is different, so we listen to what you need and make it happen. From planning to setting up, we're with you all the way.
Help When You Need It: We don't just disappear after you buy from us. Our team is here to help, even after everything is set up. If there's a problem, we'll fix it. Our goal is to make sure your LED video wall keeps working perfectly.
Choose Arista Vision:
In a market full of choices, Arista Vision stands out for the right reasons. Our experience, happy customers, focus on quality, and ongoing support make us the best option for LED video walls in Pakistan. With us, your vision becomes an impressive reality.
Video walls are typically arranged in different configurations. The common ones are 2×2, 3×3, and 4×4. In these configurations, the first number represents the horizontal displays, and the second number represents the vertical displays. If you multiply these two numbers, you get the total number of screens in the video wall. For instance, when someone mentions a video wall with 4 monitors, they are most likely referring to the 2×2 configuration, as options like 1×4 or 4×1 are less common but still possible because of the modular nature of the technical solution.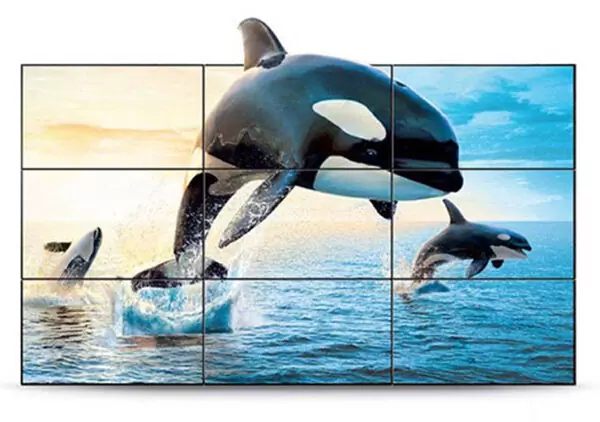 EXTREME NARROW BEZEL (1.7mm bezel-to-bezel)
ULTRA NARROW BEZEL (3.5mm bezel-to-bezel)
SUPER NARROW BEZEL (5.7mm bezel-to-bezel)
Frequently Asked Questions (FAQs) – Arista Vision LED Video Walls in Pakistan
Q1: What is Arista Vision, and what products do you offer?
A1: Arista Vision is a leading supplier of LED video walls in Pakistan. We specialize in providing high-quality SMD LED video walls for various applications, offering vibrant and dynamic display solutions.
Q2: What are LED video walls, and how do they work?
A2: LED video walls consist of a matrix of small LED displays that work together to create a larger screen. These LEDs emit light directly, producing bright and colorful visuals. They work by displaying images and videos through a combination of red, green, and blue LEDs.
Q3: What advantages do LED video walls offer over traditional displays?
A3: LED video walls offer several advantages, including high brightness, excellent color accuracy, energy efficiency, and the ability to create large, seamless screens. They are also durable and can be customized to various shapes and sizes.
Q4: What applications are LED video walls suitable for?
A4: LED video walls are versatile and find applications in various fields such as advertising, entertainment venues, control rooms, retail spaces, events, and more. Their dynamic display capabilities make them ideal for captivating audiences and conveying information effectively.
Q5: How is the installation process for LED video walls?
A5: Our skilled technicians handle the installation process. It involves mounting the LED panels securely and connecting them to the required power and control systems. We ensure a seamless setup that maximizes the visual impact of the video wall.
Q6: What is involved in the maintenance of LED video walls?
A6: Regular maintenance includes cleaning the screens to maintain optimal brightness and addressing any technical issues that may arise. We offer maintenance services to keep your LED video wall functioning flawlessly over time.
Q7: Are LED video walls compatible with different content sources?
A7: Yes, LED video walls are highly compatible with various content sources such as computers, media players, cameras, and more. We can help integrate your preferred content sources for seamless playback.
Q8: What is the price range for SMD video walls offered by Arista Vision in Pakistan?
A8: The price of SMD LED video walls in Pakistan from Arista Vision varies based on factors such as screen size, resolution, and customization. For accurate pricing, please contact our sales team. We're here to help you find a suitable SMD video wall solution that meets your needs and budget. Get in touch with us to explore the possibilities of high-quality visual displays.
Q9: Who are your typical clients, and why should they choose Arista Vision?
A9: Our clients range from businesses and event organizers to educational institutions and government agencies. Clients choose Arista Vision for our top-quality products, reliable installation and maintenance services, and a track record of delivering impactful visual solutions.
Q10: How can I contact Arista Vision for inquiries or to place an order?
A10: You can reach us through our website at www.aristavision.com, where you'll find our contact details. Feel free to call or email us with your inquiries, and our responsive team will assist you promptly.
Q11: Are you the leading SMD screen supplier in Pakistan?
A11: Yes, we are proud to be recognized as a top supplier of SMD LED video walls in Pakistan. Our commitment to quality, innovation, and customer satisfaction sets us apart in the industry.
Q12: Where do you offer your SMD LED video walls services in Pakistan?
A12: We offer our SMD LED video walls services in various cities across Pakistan, including Lahore, Karachi, Islamabad, Multan, Rawalpindi, and other cities.
For further assistance or specific inquiries, please don't hesitate to get in touch with us. We're here to help you make informed decisions and provide you with the best LED video wall solutions in Pakistan.