Outdoor SMD LED Screens in Pakistan - Outdoor Led Screen
Welcome to Arista Vision, your go-to source for top-notch outdoor SMD screens in Pakistan. Our screens are built to last, ensuring durability against any weather. With stunning high resolution, your content will shine vibrantly.
Choose from various sizes and configurations to suit your needs, and even customize for a unique touch. At Arista Vision, we're committed to providing seamless and impactful outdoor displays that leave a lasting impression.
Check Out: SMD Screens in Pakistan
Brands We Are Working With
We're Arista Vision, a company in Pakistan that provides SMD screens. We work with different brands like Unilumin, GKGD, Leyard, and Qiangli. We're really proud of our partnerships with these famous brands. Our goal is to do a great job and give outstanding results, which is why these well-known companies trust us.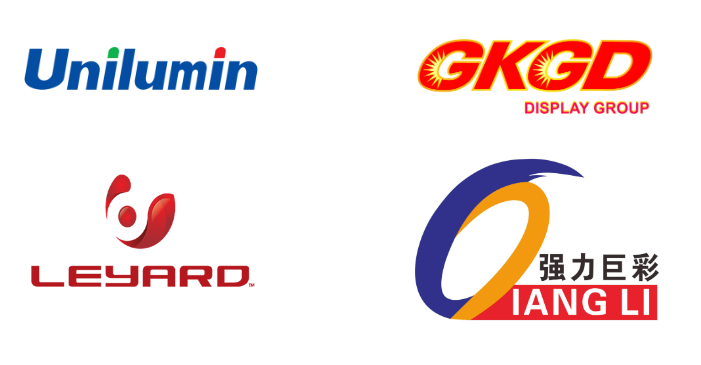 Outdoor led Screen
We are Arista Vision, and we're super excited to be the top outdoor LED screen providers all over Pakistan, even in big cities. Our LED screens are super cool because they show really bright and colorful pictures, even when the sun is shining bright. We have all sorts of screens for different things like events, ads, and fun stuff, and people really like them because they look awesome and grab everyone's attention!
Availability in Major Pakistani Cities
Our screens light up major cities like Lahore, Islamabad, Karachi, Rawalpindi, and Peshawar. If you're in these cities and need SMD screens, we're here to help light up your events and spaces!
Key Features:
Super Brightness: Our outdoor SMD screens shine even when the sun is high. With high brightness, you can count on exceptional visibility even on the brightest days. Your messages and visuals won't be missed, no matter the lighting conditions.

Smart Savings: We know the value of your hard-earned money. That's why our screens are designed to be energy-efficient, ensuring you get the best quality without the hefty energy bills. You can have stunning visuals without worrying about costs.

Tough as Nails: Our screens are built to handle the toughest conditions Mother Nature can throw at them. Harsh weather? No problem. Our weather-resistant and rugged build ensures that your display remains vibrant and intact, rain or shine.

Colors That Pop: Get ready for visuals that truly come to life. Our screens offer vivid and dynamic displays with remarkable color accuracy. Your content will be presented exactly as intended, capturing the attention of anyone who looks at it.

Seamless Harmony: Integrating content has never been smoother. Our screens seamlessly connect with various content sources, making it easy for you to showcase your messages, advertisements, or any other content you have in mind. Effortless integration means more time for creativity.
Experience the future of outdoor displays with Arista Vision's SMD screens. Enjoy clear visibility, save on costs, and withstand the elements, all while displaying stunning visuals that captivate your audience.
Outdoor SMD LED Screens Applications
Discover the various uses of outdoor SMD screens provided by Arista Vision in Pakistan:
Advertisement and Promotion: Our SMD screens serve as great platforms for advertising and marketing endeavors. They help businesses reach a broader audience with eye-catching visuals, promoting products, services, and special offers effectively.

Fun and Festivities: At entertainment events like concerts and sports gatherings, our screens add a vibrant touch. They display live action, replays, and close-ups, enhancing the overall experience and making every moment more exciting.

Sharing Important Info: In busy public spots, our screens become essential for spreading important information. From news updates to public service messages, these screens keep everyone informed and connected.

Finding Your Way: Navigating through a new place becomes easier with our screens. They guide people with interactive maps, directions, and helpful pointers, ensuring everyone finds their destination without hassle.

Up-to-the-Minute Updates: Real-time news, announcements, and alerts find their way onto our screens. This keeps everyone in the loop about the latest happenings, from weather forecasts to emergency notifications.
At Arista Vision, we offer these versatile outdoor SMD screens that cater to a variety of needs. Whether it's showcasing advertisements, spicing up events, spreading vital info, aiding in navigation, or delivering instant updates, our screens are here to make an impact.
Outdoor SMD LED Screen Providers in Pakistan
We're the top and best outdoor SMD screen providers in Pakistan. Our company is known for being a leading dealer and supplier of these amazing screens. When it comes to outdoor smd screens, we're the experts you can count on. Whether you need screens for events, advertising, or any outdoor use, we've got you covered. Our goal is to bring you the best quality screens that make your visuals pop and grab attention. So, if you're looking for top-notch outdoor smd screens, look no further – Arista Vision is here to meet all your screen needs!
Outdoor SMD LED Screens Prices in Pakistan
We're Arista Vision, a company in Pakistan that provides SMD screens. We specialize in outdoor screens. If you're curious about the prices of outdoor SMD screens in Pakistan, feel free to get in touch with us. We're here to help you find the best solution for your needs.
Digital Outdoor screens in Pakistan
We specialize in digital outdoor screens. These screens are used outside and display information in a bright and clear way. If you need outdoor screens for various purposes, we're here to help!
Advertising screen price in Pakistan
We offer SMD screens in Pakistan for advertising purposes. Our company provides a range of options under the name Arista Vision. If you're looking for advertising screen prices in Pakistan, feel free to connect with us. We're here to provide you with information about our affordable options
FAQs - Outdoor SMD led display
Q1: What is an outdoor SMD screen?
An outdoor SMD screen is a large display made up of tiny LED lights called Surface-Mounted Devices (SMD). These screens are designed to be used outdoors and can show videos, images, and messages with vibrant colors and high clarity, even in bright sunlight.
Q2: How is the installation done?
Installing our outdoor SMD screens is a straightforward process. Our skilled team will visit your location and carefully mount the screen at the designated spot. We ensure secure placement and proper connectivity to ensure optimal performance.
Q3: Can these screens withstand different weather conditions?
Absolutely! Our outdoor SMD screens are built to handle various weather conditions. They are waterproof and designed to resist dust and sunlight exposure. This durability ensures consistent performance even in rain or intense sunlight.
Q4: How do I maintain the screen's performance?
Maintaining your outdoor SMD screen is hassle-free. Regularly cleaning the screen's surface with a soft cloth and mild cleanser will keep it looking sharp. We also offer maintenance services to check for any technical issues and ensure smooth functioning.
Q5: Can I customize the content displayed on the screen?
Certainly! You have full control over the content displayed on the outdoor SMD screen. You can showcase advertisements, announcements, event promotions, or any visual content you prefer. Our team can guide you on content management and updates.
Q6: Are these screens energy-efficient?
Yes, our outdoor SMD screens are energy-efficient. The LED technology used consumes less power compared to traditional displays, making them cost-effective and environmentally friendly.
Q7: What is the lifespan of these screens?
Our outdoor SMD screens are built to last. With proper care and maintenance, they can have a lifespan of many years. We use high-quality components to ensure durability and long-lasting performance.
Q8: Can I get a demonstration before purchasing?
Of course! We understand the importance of making an informed decision. Contact us, and we can arrange a demonstration of our outdoor SMD screens. This way, you can see their quality and capabilities firsthand.
Q9: Is technical support available?
Yes, we offer technical support to assist you with any issues or questions you may have. Our team is dedicated to ensuring your outdoor SMD screen operates smoothly, and we're here to help whenever you need.
Q10: How do I get in touch to discuss my requirements?
Getting in touch is easy. You can reach out to us through our website, phone, or email. Let us know your requirements, and our friendly team will guide you through the options and help you find the perfect outdoor SMD screen solution for your needs.